Hi all,
Just popping in to share my exciting news.
So, why the title to my post you ask?
Go on, ask me, ask me, ask me!
Oh, alright I'll tell you.
I have been bursting to tell you all for ages now but couldn't until the challenge post went live.
Mitzi Sato Wiuff messaged me on Facebook and asked me if I would like to be a Guest Designer for a forthcoming challenge at
Aurora Wings
!!
Can you blimmin believe it? No, neither could I!!
Obviously I had to give it serious thought................. for like a nano second!! Lol
Would I?? You bet I would.
I love Mitzi's images and have three of her colouring books as well as dozens of Aurora Wings images. What an honour.
So the challenge is a Bingo Grid - but it's not just any old Bingo Grid, oh no!
So, you will see that not only is there nine squares with different things in but each square is a different colour.
So, not only could you choose three, six or even 9 elements to work with you could also choose 9 different colours or a mixture of the two or indeed every single bit of it! Hahahaha.
So I decided to go with a mix of the two and I chose:
Thread (Pinky/purple)
Die Cuts (Butterfly and leaves)
Beads (pearls)
Lace
Flowers
Bow (tied in the thread)
Layers
Cheesecloth
Sentiment
Purple
Orange
Yellow
(Mind you there is a bit of red and blue in there too!!)
I think I got a bit carried away, don't you? hehehe
So I chose to use "Harvest Elf" and you can find her
here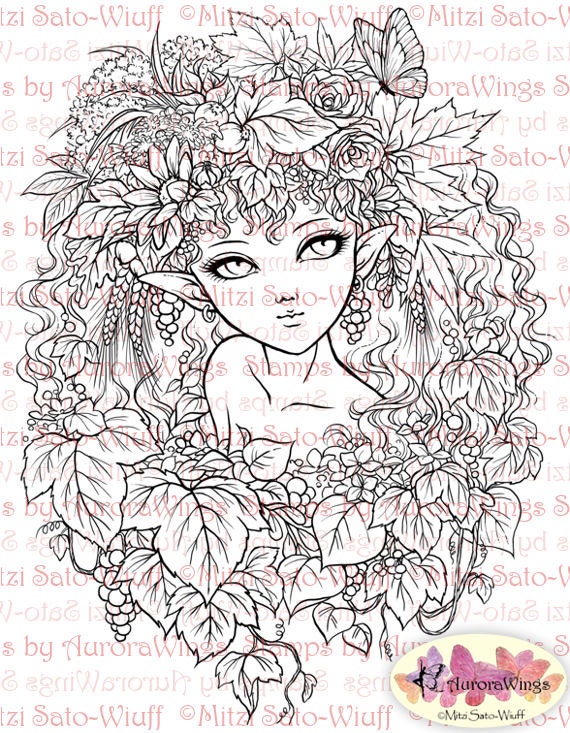 Isn't she gorgeous?
So, here is the card I made:
The image is coloured with my Polychromo Pencils, lots of them!!
I matted and layered the card on lilac card and then put a layer of cheesecloth between the image and a darker piece of purple card.
The whole of that is layered on to a piece of Yellow card and I have added purple lace and pearls down the side.
The die cut butterfly is coloured with my Fleximarkers/Promarkers.
The gold flowers are from
Samaflora
on Facebook, the others I have had in my stash for ages.
The sentiment is one I have had for ages given to me by a very good friend.
So, there you have it.
What do you think?
I have to be honest I really enjoyed colouring this image. Just when you think you have done all the bits of one colour you find another bit that should be the same colour but it is so absorbing, I just lose myself in the colouring and before I know it two hours have flown by.
I will come back later and add a few challenges, well I feel like I should because I am actually really proud of it. xxx
Challenges: